About
So you want to know a little bit about this place, and maybe the people who made it possible? You have come to the right place!
Lasria is a RPG in progress, this forum is a place for anyone interested in playing that game to hang out until it arrives. In the meantime, there are a few minigames, avatars, crafting, a market and plenty of other things to do around here to pass the time until the RPG is complete. The forum was built on PHPBB, an open source forum software based in php. The extensions used in Lasria, built in phpbb, are not open source, however. This site is an indie-development passion project by people who love these kinds of communities for other people who also love these kinds of communities.
Amelia Winstead built this site, and is the sole administrator, developer, and designer for all assets used on the site. She's been coding for about a decade, but mostly web-development with game development as a side pursuit. Before working as a professional developer, Amelia worked as a designer, and before that, as a pixel artist, so sites like these which allow her to do all of the above bring her great joy. Lasria is currently a project she pursues in her spare time, and when the RPG game is complete, it will be her proudest achievement to date. Saeyra and Marcherin help with the art required for Lasria, and Juneberry writes and edits.
Here is an photo-realistic representation of how this site was made: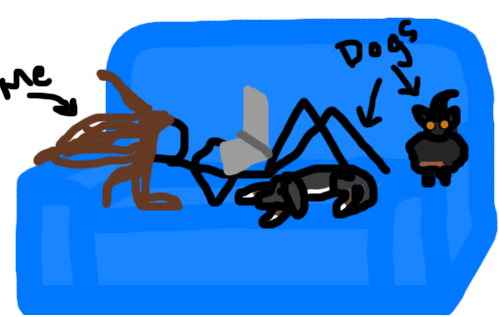 When she isn't coding, Amelia enjoys playing videogames, cuddling with her puppies, and doing art/crafting/tech projects with things like raspberry pis and duct tape.